Eco Schools
Eco Counsellors 2022-2023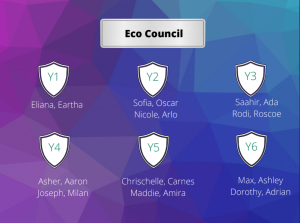 Here are some websites to help you to become more eco-friendly at home too:
General Eco: http://www.ecofriendlykids.co.uk/SchoolCategory.html
Climate change: http://apps.rhs.org.uk/schoolgardening/default.aspa
Wildlife: http://www.rspb.org.uk/youth/learn/waa/index.asp
Plants and the natural world: http://www.naturedetectives.org.uk/download/autumn/
Climate and Environment: www.christianaid.co.uk
Plants and the natural world: http://www.greatplanthunt.org/home
The Eco Council have been working with Oxfam to challenge climate change. Climate change is the most urgent crisis
facing our world and we want to do something to help. They encouraged each class to write climate justice postcard
messages calling upon the COP27 negotiators to take action. The COP27 climate change conference takes place in Egypt
in November 2022, when negotiators from different countries will hold the future of the world in their hands. Oxfam will be
delivering climate justice postcard messages written by young people to COP27 and our Eco Council wanted the voices of
St. Saviour's children to be heard!
On Wednesday, international sprinter Frederick Afrifa visited St Saviour's! Every class was
put through their paces as they took part in a fitness circuit. He even managed to get the
teachers involved in a high knees challenge!
Later in the day, Frederick spoke to the whole school and shared his journey as an athlete.
With his motto 'Keep Moving Forward', he encouraged the children to show tenacity and
never give up particularly when situations are challenging.
A big thank you to parents who attended our Cheese and Wine evening on Thursday. It was lovely
to speak to you in person and we value your suggestions to inform school development.
Next week, we will be attending St Saviour's Church to celebrate Harvest. If you are able to donate
a non-perishable item for your child to bring to the church service, we would be very grateful. Your
donations will be appreciated and will make a difference to members of our community.
We hope to be able to
update you on the postcards'
journey to Egypt and COP27
but in the meantime you can
follow Twitter
@oxfameducation and
@oxfamcampaigns for more
information on this important
campaign.